Carefree Acres Blog
Log into the member access area and join in on our Blog. We would love to hear your comments.
Clarke County has recently instituted a rapid emergency notification system called

CODE RED

. In the wake of the Connecticut tragedy, we would encourage all in our community to sign up for this service.


For the safety of everyone, please observe the 15 mph speed limit in our community.



No Trucks on Shady Ford Lane

At the last board meeting, the road committee requested that no

trucks or trailers

be allowed on Shady Ford Lane.

Please instruct your delivery trucks to use our second entrance and come down Solitude Lane.
Road Maintenance Program


The Carefree Acres Road Maintenance Program is now available in document form on the members page of our website.

New Carefree Acres Sign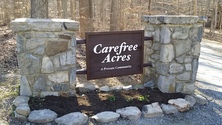 Carefree History Lesson


Did you know that in 1910 a one room school house was established in Wildcat Hollow?
It was called Wildcat Academy. The mountain that we live on

contains a wealth of history. Check out our
History Page.
If you
SEE
something
SAY
something
Delivery Truck Stuck
Shady Ford & Solitude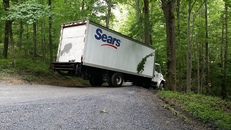 Please tell your delivery truck operators to use the second entrance. Trucks are not allowed on Shady Ford.